Journey to Kidlit
Regular price
$0.00 USD
Sale price
$97.00 USD
Unit price
per
Sale
Sold out
Get the easy-to-follow marketing strategy all writers can use!
Are you getting ready to publish your children's book? Before your book comes out, you need a marketing plan. With the Kidlit Marketing Launch Kit, you can confidently plan for your upcoming launch and know easy ways to market your book when it finally hits shelves.
WHAT YOU'LL LEARN...
The important marketing tactics you can use to promote your book

When to implement each step of your plan and what things to focus on

What marketing ideas to try when planning your upcoming launch
WHAT YOU'LL RECEIVE...
PDF starter guide into how to start marketing your children's book

12-month marketing timeline and checklist to know what to promote, when

List of 40 different Kidlit reviewers and influencers to send your book to, plus email scripts of what to send to them

4-page press kit template to use when pitching yourself to news outlets

15+ Social media post ideas to share on your social platforms
3-part launch plan to help you make the most of your book birthday
Who's this launch kit for?
If you have a book coming out, this is the PERFECT tool for you as it will get you set up with a solid marketing plan to help you maximize sales at launch. Even if your book's already out, you can still use the Kidlit Marketing Launch Kit to help you strategize your long-term marketing plan.
How soon after purchasing will you receive the kit?
The Kidlit Marketing Launch Kit will be delivered digitally, via the email address you provide at checkout. It should arrive within 5-10 minutes of your purchase. (At this time the kit is only available in digital PDF format. You can choose to print the entire kit and have it bound or keep it in a 3-ring binder, or you can print just the pages you need at specific times. Whatever works best for you.)
This is a digital product. Nothing physical will ship.
Please note: Our digital products are for personal use only. While you can use the fillable fields on your computer or print out the sheets yourself, you cannot share this with anyone else, make a copy, or use this for resale.
Share
View full details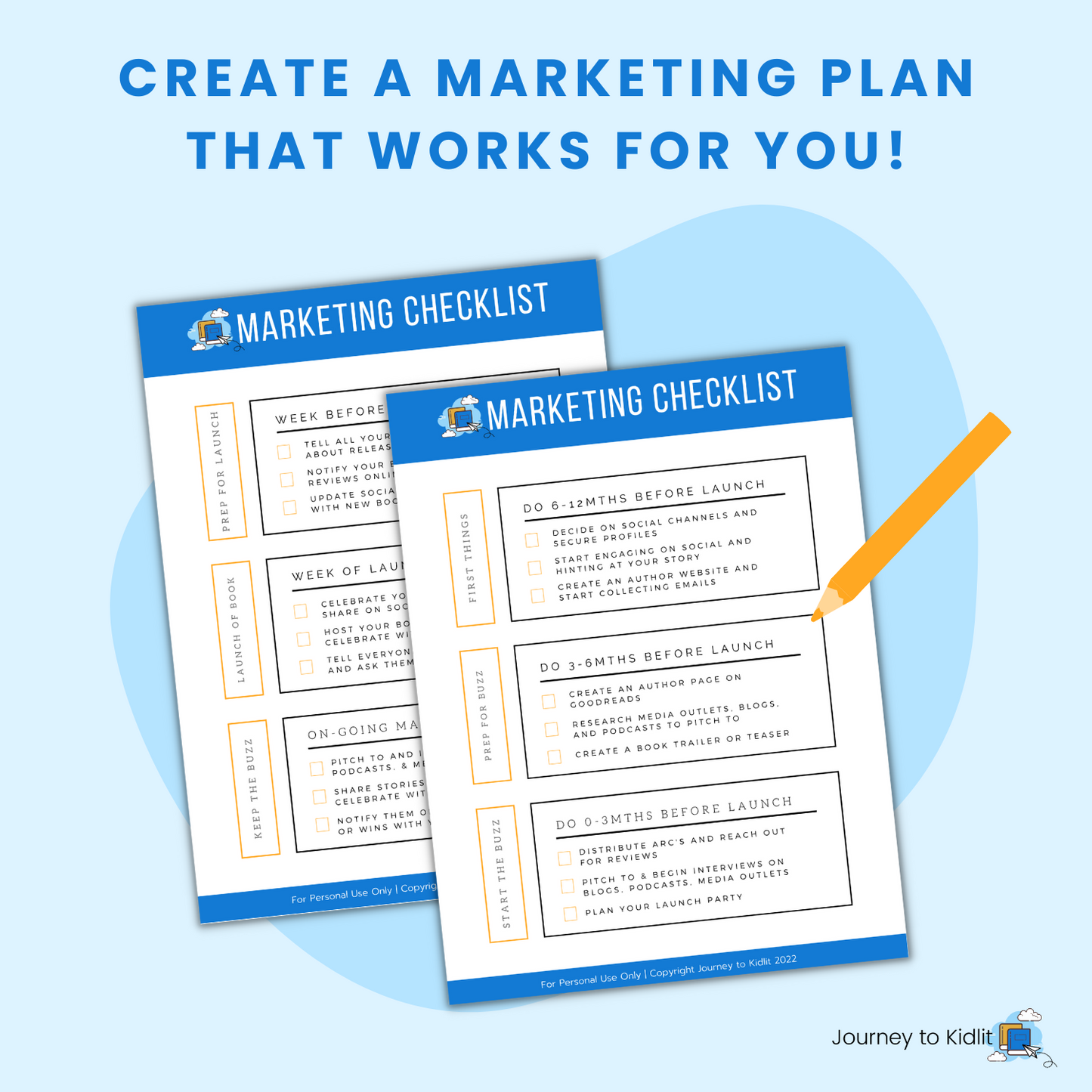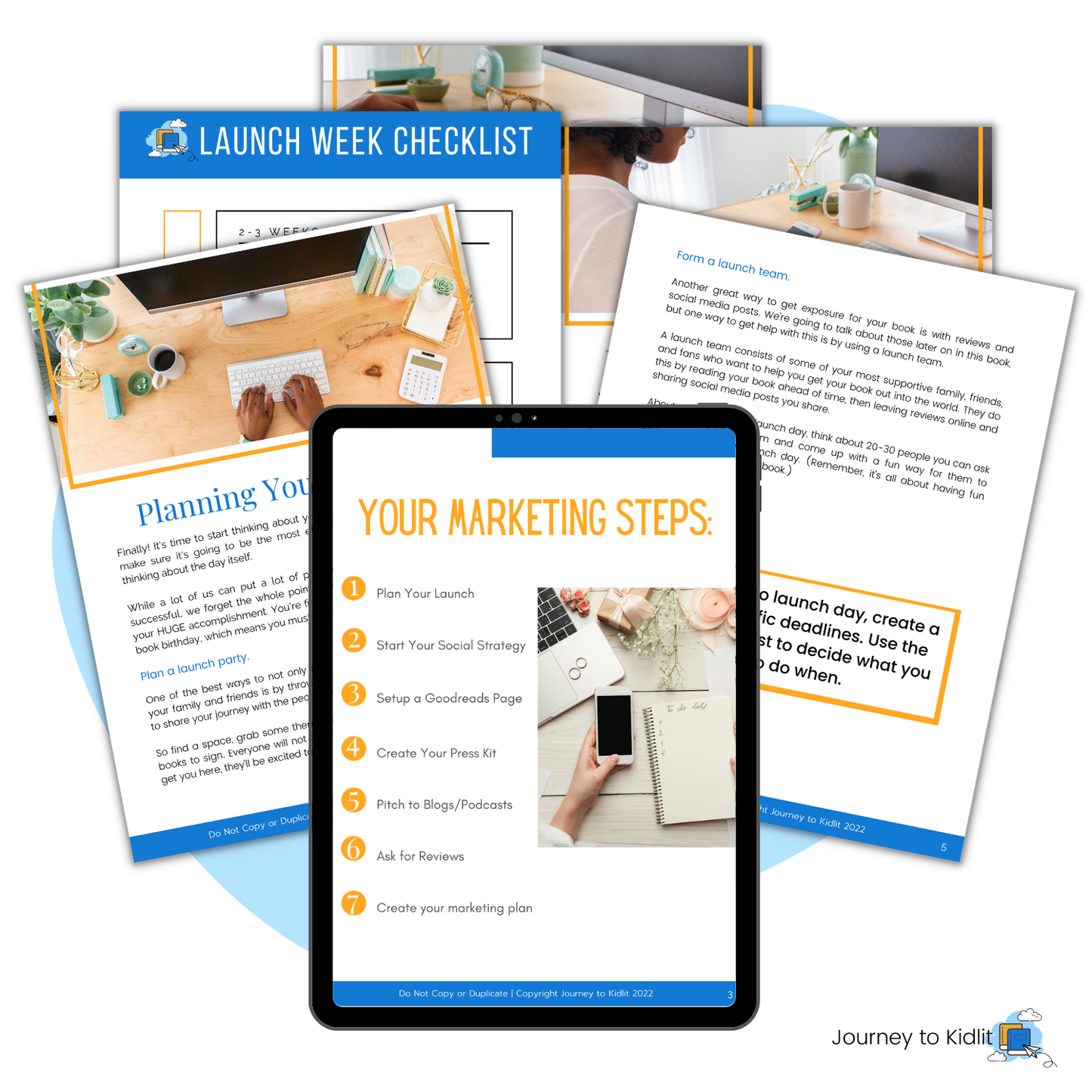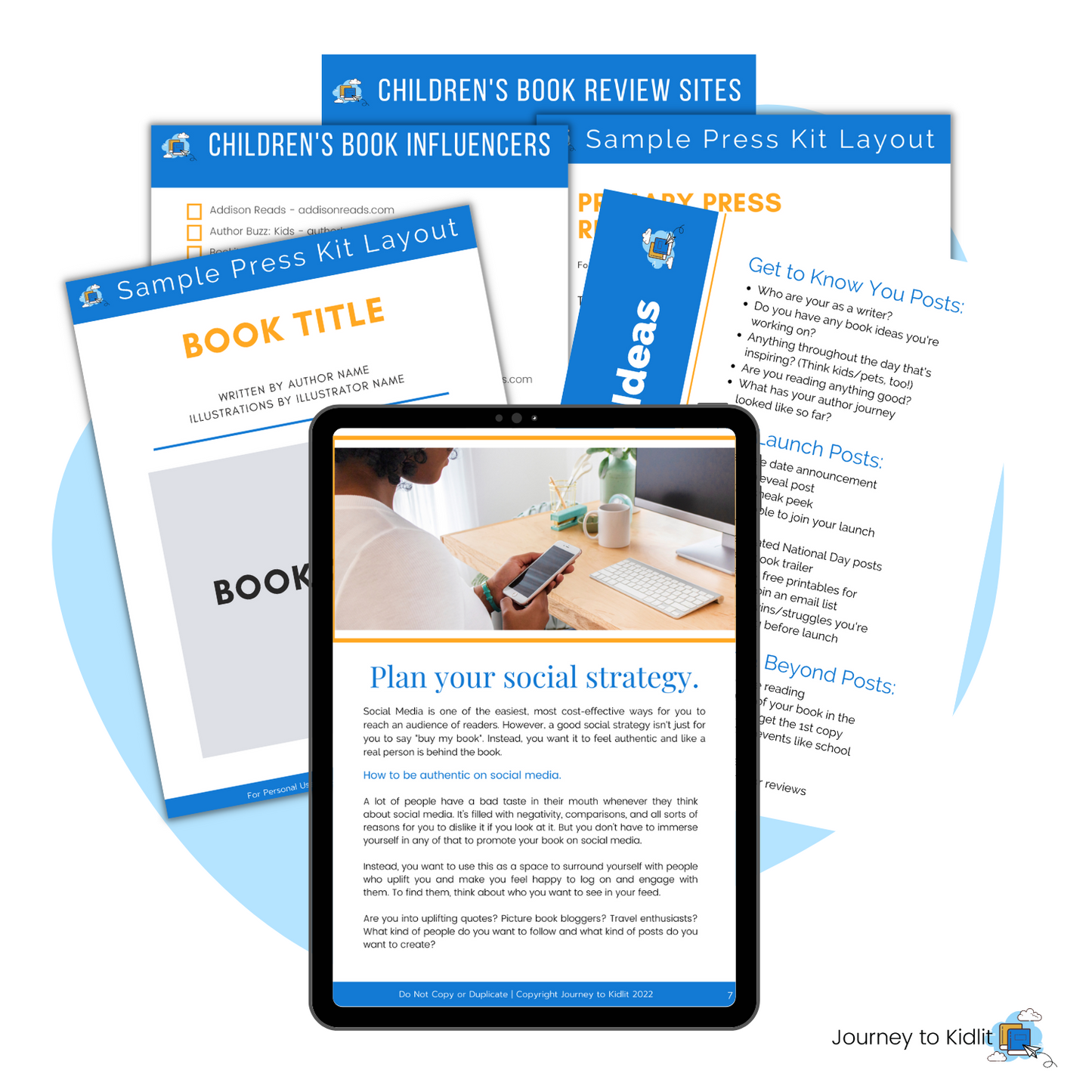 Incredible Value!
This is the most comprehensive and well done marking resource ever, I'm so thrilled for the many ways I can use this as I'm planning my books and launches. Highly recommend for value of the content and ease of use.
I love that she's condensed a plethora of information into one kit!
Thank you so much Brooke for the awesome self publishing pack and marketing kit. What I love about these kits is that Brooke has condensed a plethora of information into easily accessible kits that make everything seem straightforward and manageable. All the information out there on self publishing can be overwhelming. I love the charts and tick lists so that you can go through the process in a logical manner , perfect for us creative types! Plus all presented in a visually pleasing manner. I definitely recommend
I love that she's condensed a plethora of information into one kit!
Thank you so much Brooke for the awesome self publishing pack and marketing kit. What I love about these kits is that Brooke has condensed a plethora of information into easily accessible kits that make everything seem straightforward and manageable. All the information out there on self publishing can be overwhelming. I love the charts and tick lists so that you can go through the process in a logical manner , perfect for us creative types! Plus all presented in a visually pleasing manner. I definitely recommend